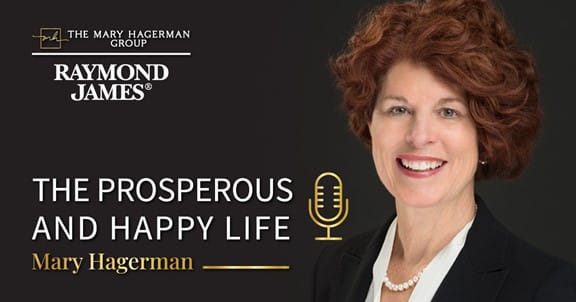 Money doesn't guarantee happiness, but it sure can help. In this podcast, I bring you expert advice on how to achieve not only wealth …. But happiness too!
I shares tips and experiences from my quest to help my clients be prosperous and happy. Over more than 30 years I have worked with thousands of clients and countless experts, all looking to live a rich and fulfilling life. In my podcast interviews, I share my stories and wisdom, along with advice from the many experts I have encountered along the way.
Subscribe to The Prosperous and Happy Life podcast on Spotify.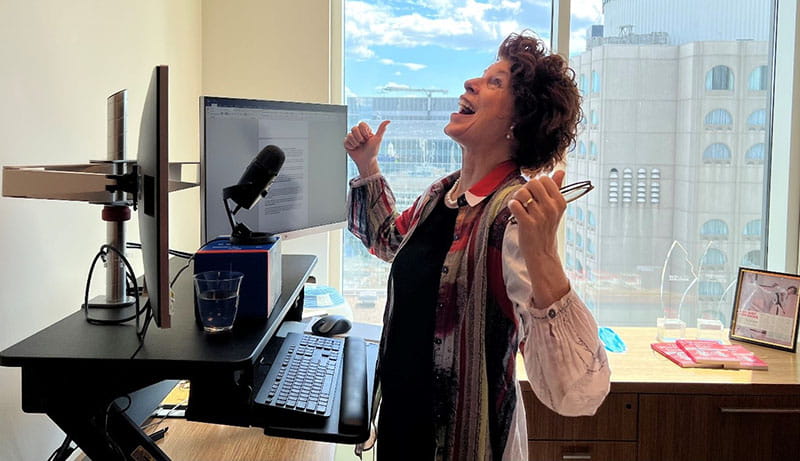 ---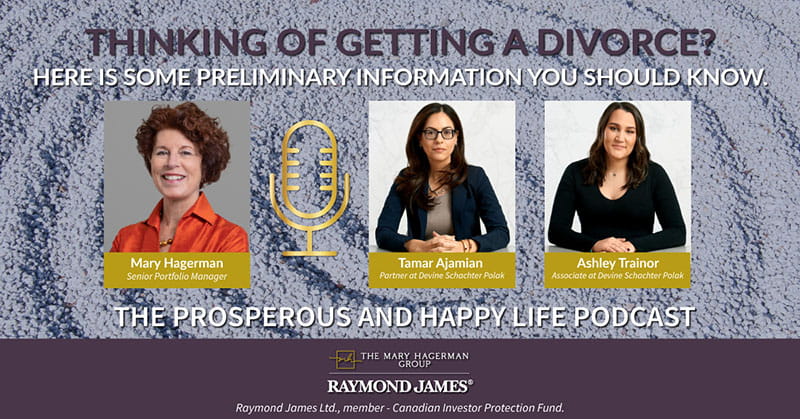 Episode 10 - Thinking of Getting a Divorce? – Here is Some Preliminary Information You Should Know.
If life was a fairytale, we'd all live "happily ever after" with the partner of our dreams. But reality is a different thing. In fact, about half of marriages fail and the statistics are even worse for second marriages.
When couples choose to end their marriage or partnership, the financial consequences can be worse than the nastiest bear market. It's imperative to proceed with caution and get good advice. That's why I reached out to two experienced lawyers to ask them how they work with clients who are looking to get divorced.
Ashley Trainor, an associate at Devine Schachter Polak, is a trial lawyer specializing in family law and successions
Tamar Ajamian is a partner also at Devine Schachter Polak; her areas of expertise are family law and estate matters.
The initial contact that comes from someone who is looking to get divorced.
What to expect the conversation to be once you are in the lawyer's office.
Family patrimony – assets and liabilities.
Spousal support and alimony.
Child support and special expenses.
Separations vs. divorce.
An overview of the impact on your estate documents if you are seeking a divorce.
Possibility of reconciliation? Offer the option of mediation?
We cover the following topics :
𝐅𝐚𝐦𝐢𝐥𝐲 𝐩𝐚𝐭𝐫𝐢𝐦𝐨𝐧𝐲 – 𝐚𝐬𝐬𝐞𝐭𝐬 𝐚𝐧𝐝 𝐥𝐢𝐚𝐛𝐢𝐥𝐢𝐭𝐢𝐞𝐬. [07:40]
𝐒𝐩𝐨𝐮𝐬𝐚𝐥 𝐬𝐮𝐩𝐩𝐨𝐫𝐭 𝐚𝐧𝐝 𝐚𝐥𝐢𝐦𝐨𝐧𝐲. [13:30]
𝐂𝐡𝐢𝐥𝐝 𝐬𝐮𝐩𝐩𝐨𝐫𝐭 𝐚𝐧𝐝 𝐬𝐩𝐞𝐜𝐢𝐚𝐥 𝐞𝐱𝐩𝐞𝐧𝐬𝐞𝐬. [15:15]
𝐒𝐞𝐩𝐚𝐫𝐚𝐭𝐢𝐨𝐧𝐬 𝐯𝐬. 𝐝𝐢𝐯𝐨𝐫𝐜𝐞. [22:25]
𝐏𝐨𝐬𝐬𝐢𝐛𝐢𝐥𝐢𝐭𝐲 𝐨𝐟 𝐫𝐞𝐜𝐨𝐧𝐜𝐢𝐥𝐢𝐚𝐭𝐢𝐨𝐧 𝐚𝐧𝐝 𝐦𝐞𝐝𝐢𝐚𝐭𝐢𝐨𝐧. [23:41]
𝐀𝐧 𝐨𝐯𝐞𝐫𝐯𝐢𝐞𝐰 𝐨𝐟 𝐭𝐡𝐞 𝐢𝐦𝐩𝐚𝐜𝐭 𝐨𝐧 𝐲𝐨𝐮𝐫 𝐞𝐬𝐭𝐚𝐭𝐞. [24:12]
To reach out to Devine Schachter Polak for a confidential chat, please visit https://familylaw.ca/.
Thank you for listening
Subscribe to The Prosperous and Happy Life podcast on Spotify
Keep up to date with Mary by subscribing to her newsletter on The Mary Hagerman Group
Follow Mary Hagerman on LinkedIn and on Facebook
Do not hesitate to contact us at mary.hagerman@rymondjames.ca
---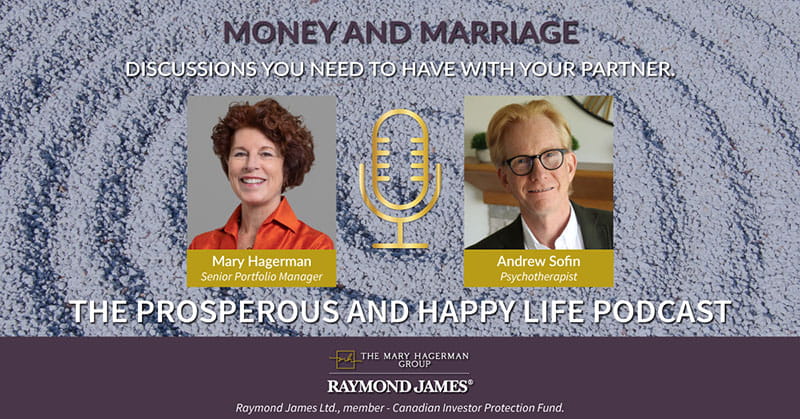 Episode 9 - Money and Marriage – Discussions You Need to Have With Your Partner
The markets might go up and down, but if you're patient and don't sell your investments, you probably won't lose money. On the other hand, a divorce is almost always forever. When couples break up, the financial consequences can be far worse than the nastiest bear market.
That's why my guest today, Andrew Sofin has such an important job. Andrew is a Licensed Psychotherapist and Couples & Family Therapist. He attended Queen's University for undergraduate studies and then completed graduate studies at Antioch University (USA) specializing in couple and family therapy.
Andrew is the founder of Couples Retreat at Ocean Coral and is in private practice in Montreal, Canada.
Whether you're married, in a couple or just recovering from a relationship, I encourage you to listen to our 34 minute chat.
We discuss:
How Andrew sees money problems manifesting in the relationship. [03:15]
If it's a man versus woman situation where often it's the man who controls the money. [04:45]
How people learn about money from their families and how they carry those values through their lives. [07:15]
Where issues may start to appear with couples who may move in different directions. [09:36]
When couples should engage in conversations about their finances. [14:27]
Recommendation to couples who are in the early stages of their relationship. [16:53]
What makes a healthy couple in terms of finances.[19:48]
The mature couple and "Grey Divorce" and how it relates to financial issues. [21:59]
How conversations and financial plans need to be updated over time as things change. [24:48]
What keeps a solid relationship. [26:20]
How Andrew sees the younger generation address relationships, power and control. [29:10]
Thank you so much for tuning in and please make sure to subscribe to "the Prosperous and Happy Life" on Spotify, Captivate or Google Podcasts, we will be releasing new episodes the last Friday of every month.
You can also sign up there for our free monthly newsletter on my website; www.maryhagerman.ca
And in the meantime, you can follow-me on LinkedIn and Facebook; @maryhagerman. The link is in the description box below.
---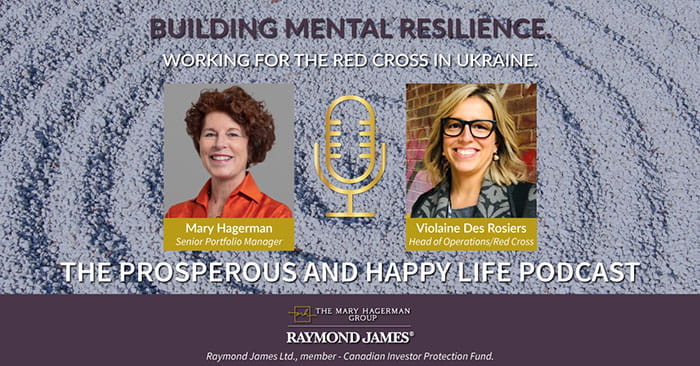 Episode 8 - Building Mental Resilience – Working for the Red Cross in Ukraine.
One year ago from the taping of this episode, our worlds were rocked by the Russian invasion of Ukraine. The markets dropped and inflation spiked. Yes, it has hurt our wallets and portfolios, but what it has done to the lives of the people on the ground of this senseless war is heart-wrenching.
In this episode, I talk with a great humanitarian. Violaine Des Rosiers has been working to make this world a better place, all of her adult life. The list is long, but she has worked with various humanitarian organizations in Latin America and the Caribbean, Africa, Asia and the Middle East, as well as with the International Bureau for Children's Rights. She has also been the head of one of Canada's largest private foundations.
In 2018, Violaine received the Marcel Côté Award from the Public Policy Forum of Canada, which recognizes the contribution of Quebec leaders who have demonstrated exceptional leadership in the field of public policy and civic discourse.
Now, Violaine is head of the Red Cross operations in Ukraine and that's where I reached her today.
I'm joined in this interview by my podcast producer, Nicholas Saranczuk, who is of Ukrainian descent.
A look at how Violaine ended up in Ukraine. [03:04]
What a day looks like, while working for the Red Cross. [05:36]
How Violaine became interested in humanitarian work. [13:04]
How she preserves her mental resilience while on the job. [16:22]
What brings her a sense of fulfillment in her work. [20:12]
Once the war is over, what will her work look like going forward. [26:24]
How listeners can help the people of Ukraine. [29:07]
Thank you so much for tuning in. Please make sure to subscribe to The Prosperous and Happy Life on Spotify, Captivate or Google Podcasts. We will be releasing new episodes on the last Friday of every month.
Thank you for listening.
You can help support the Red Cross operations in Ukraine by donating to our special "Love not War" initiative, organized through my private foundation, which will be matching all donations throughout the month of March. Details are on my website: www.maryhagerman.ca
Subscribe to The Prosperous and Happy Life podcast on Spotify.
Keep up to date with Mary by subscribing to her newsletter on The Mary Hagerman Group.
Follow Mary Hagerman on LinkedIn and on Facebook.
Do not hesitate to contact us at mary.hagerman@rymondjames.ca.
---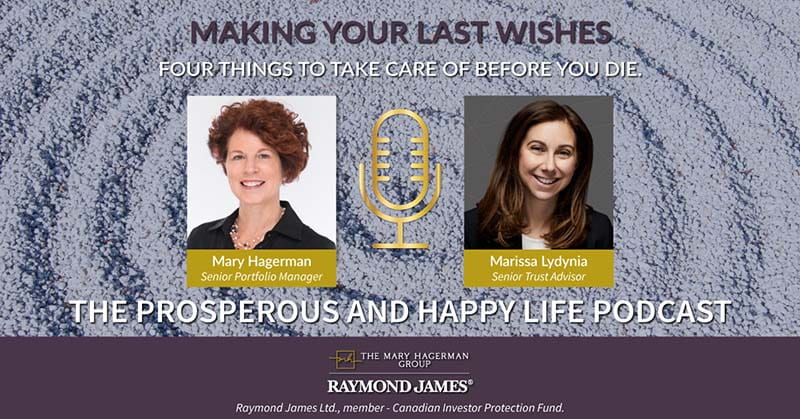 Episode 7 - Making your last wishes - Four things to take care of before you die (or become incapacitated).
Benjamin Franklin famously said, "it's impossible to be sure of anything except death and taxes." Or maybe you have heard this profound statement, "from the moment we are born, we begin to die". Yes I know, sounds pretty gloomy, but there's no getting around the fact that the subject of death elicits a lot of emotion. If you've heard me speak or read my book; The Black Belt Investor, you know that emotions and money do not make for a great combination; well emotions, money and death can be a toxic cocktail.
Todays podcast will help you prepare for the inevitable and make life a lot easier for you and your heirs.
I've enlisted the expert advice of Marissa Lydynia. She provides estate, trust and incapacity planning services to Quebec-based clients of Raymond James. She also manages several accounts for which Raymond James is appointed as liquidator, trustee, mandatary and power of attorney. Additionally, she offers support services to individuals appointed in such capacities.
Marissa uses a practical but sensitive approach to handling all trust- and estate-related matters, as she understands the emotional toll these topics can have on clients and their loved ones. She uses her in-depth knowledge of trust, estate and tax law to provide financial advisors and their clients with services tailored to their specific needs.
Prior to joining Raymond James, Marissa worked for almost 10 years in private practice at a well-known Montreal law firm where she specialized in wills and estate law. She holds a Bachelor of Commerce degree from McGill University and a Bachelor of Laws degree from the University of Montreal.
For many years, Marissa was the co-chair of the Lord Reading Law Society's Young Bar Committee, and she continues to sit on its board. She is also involved with various charitable organizations in Montreal.
Marissa enjoys volunteering in the community where she works and lives. She sits on the governing board of her sons' school, and serves on several committees that offer opportunities to parents of young children to engage with each other and the community.
Marissa's key points on preparing your estate include:
Making sure your documents are up to date. [04:02]
Choosing the right person to act as your mandatary and/or liquidator. [13:12]
Ensuring your medical wishes are known to your family. [21:09]
Keeping a central location for all your documents. [25:46]
---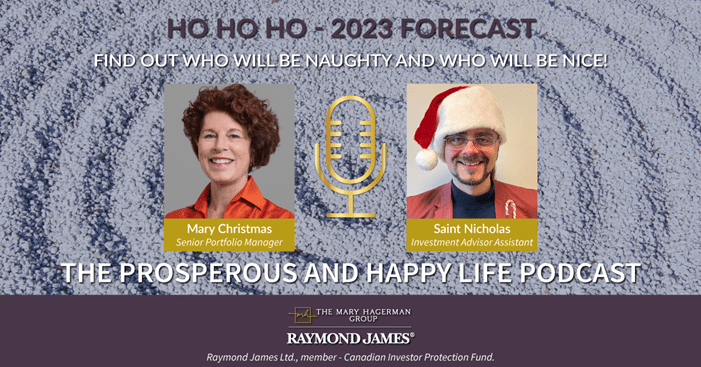 Episode 6: Ho Ho Ho – 2023 Forecast – Find out who will be naughty and who will be nice!
This podcast allows me to speak to experts in a variety of fields, but today's guest is an internationally recognized, might I say "iconic" figure, the one and only Saint Nicholas. He has just finished his 2022 world tour and reached out to me to discuss the state of the world.
Following a very troubling world tour, Santa wants to know what 2023 has in store.
Mary Christmas shares her views on:
Inflation [02:23]
Interest rates [03:48]
Recession fears [05:20]
The war in Ukraine [06:10]
ESG Investing [07:08]
Investment styles [07:38]
The 60-40 portfolio [09:45]
---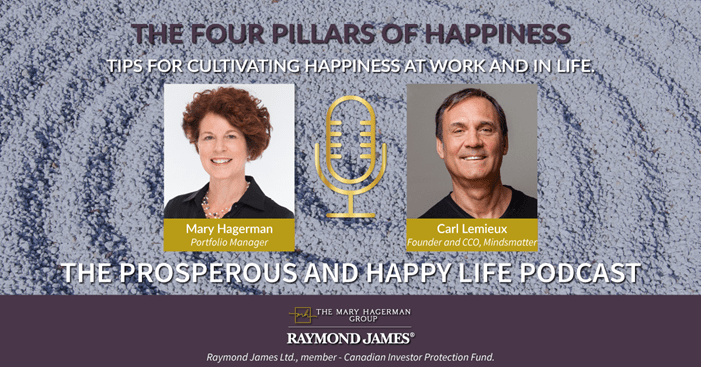 Episode 5: The Four Pillars of Happiness - Tips for cultivating happiness at work and in life.
I have been a firm believer in the benefits of mindfulness for over 40 years now and in my book, "The Black Belt Investor", I talk about how the 2008 – 2009 financial crisis was a turning point in my meditation practice….I finally became a regular meditator, to help deal with all my stress.
Since that time, I have cultivated many friendships in the consciousness space. A few years ago, I had the good fortune of meeting todays podcast guest Carl Lemieux, the founder of the leadership and well-being consultancy "Mindsmatter".
Carl Lemieux is an author, workplace psychologist, management consultant (EMBA), executive coach, psychotherapist (OPQ), and mindfulness teacher (MBSR).
Over his 35-year career, Carl has supported the design of corporate strategy and complex transformation initiatives, as well as coached and developed thousands of leaders and professionals. He is also co-author of a new book: "Vertical Growth".
Carl tells his story of how he quit the corporate life. [03:13]
Authenticity and intention as a means of finding happiness. [05:57]
How self-awareness and self-regulation is the starting point of Vertical Growth.[10:42]
Algorithms of the mind and mental programming. [13:44]
How to develop mindfulness in a realistic accessible way. [17:38]
The importance of the quality of our relationships to our overall well-being. [25:44]
Listeners can reach Carl Lemieux on his website: https://www.mindsmatter.com. Carl's book, "Vertical Growth", can be purchased on Amazon.
---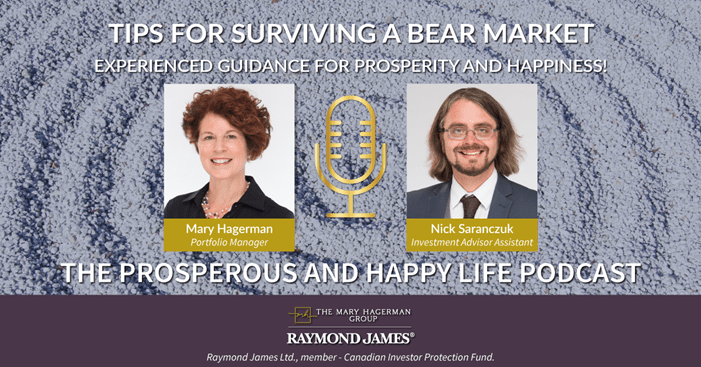 Episode 4: Tips for surviving a bear market - Experienced guidance for prosperity and happiness!
I am fortunate to have some really good people to help me do my job. If you listened to podcast number two entitled "Where are we now?" you heard from Nadeem Kassam, Chief Investment Officer with Raymond James Canada, he's part of my investment committee and then there was Sami Nathoo our financial planner, from our first podcast on rising interest rates and how that affects your financial plan.
In this episode, you will meet my podcast producer and top-notch assistant; Nicholas Saranczuk, as we chat about surviving a bear market and lessons from my book; The Black Belt Investor.
What were the worst bear markets for Mary over her more than 30 years managing money? [02:34]
Gilbert's story and the dot-com bubble. [03:45]
Lessons learned after the bubble burst. [06:09]
The Great Recession of 2008-2009 and how it compares to the pandemic and present bear market. [07:09]
Mary's tips for helping clients survive and thrive during bear markets. [10:22]
---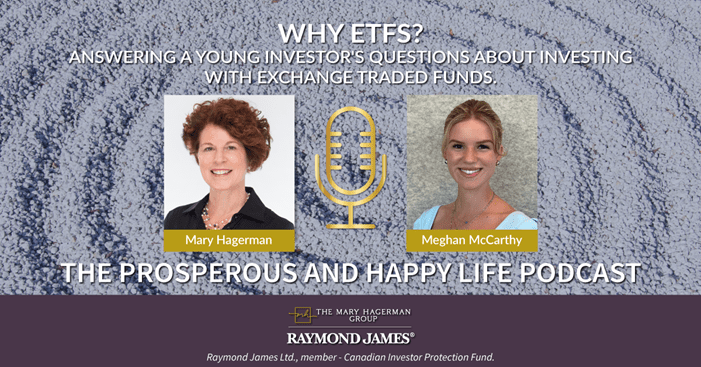 Episode 3: Why ETFs? Answering a Young Investor's Questions About Investing with Exchange Traded Funds.
As young people embark on a lifetime of saving and investing, they need to understand the role of ETFs in the investment landscape. I had the opportunity over the summer to employ Meghan McCarthy, a third-year finance student at Bishop's University, as an intern. She told me she was curious about ETFs and didn't really understand how they differed from mutual funds.
I thought it would be a great opportunity to interview Meghan on my podcast and have her ask me her questions about ETFs and investing.
What is the difference between an ETF and mutual funds? (2:25)
If mutual funds don't outperform, why not use ETFs instead? (8:00)
Is it possible for a mutual fund to compare itself to an index or does that make it an ETF? (9:55)
Why would you suggest for someone to use an advisor to build an ETF portfolio if it is already a managed fund?" (13:36)
---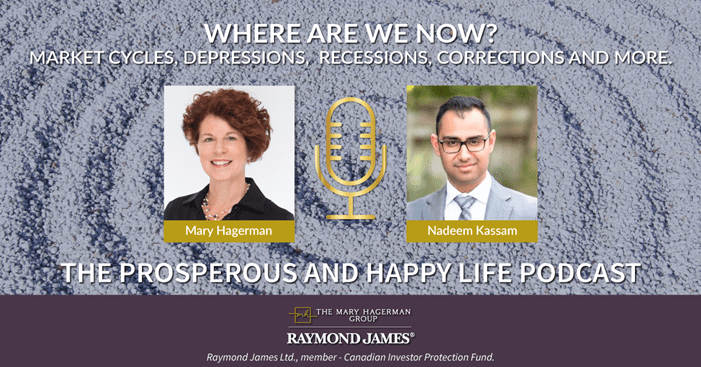 Episode 2: Where are we now? Market cycles, depressions, recessions, corrections and more.
Over the course of my over thirty years of managing money, I have seen numerous market cycles, upturns and downturns.
Each one has its own unique story.
In this episode of my podcast: The Prosperous and Happy Life, I deconstruct the story of the pandemic bull and bear market rollercoaster with my guest Nadeem Kassam; MBA, CFA.
This is definitely a unique story worth telling and we review the sequence of events in simple language, from the beginning of 2020 to August 2022.
In this episode, we dive into:
How do we define a bear market, correction and recession? (04:47)
The pandemic shock to markets (05:53)
How did interest rates decrease even lower during the pandemic? (07:35)
The shortest bear market in history (08:59)
Unprecedented market stimulus (10:20)
The shortest bull market in history (11:45)
What was your take on the markets before the war started in Ukraine? (14:50)
Inflation raises it's ugly head (18:06)
What everyone wants to know now: are we in a recession? (25:20)
What does prosperity and happiness mean to you? (31:00)
---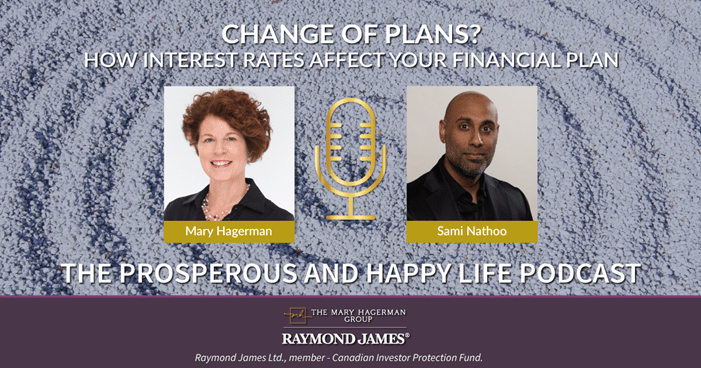 Episode 1: Change of Plans? How Interest Rates Affect Your Financial Plan.
I am very excited to announce the launch of our monthly podcast; The Prosperous and Happy Life, which goes live the last Friday of every month.
This first episode is entitled "Change of plans? How rising interest rates affect your financial planning." In this conversation with our financial planner Sami Nathoo, we discuss:
How does an increase in interest rates affect our financial plan?
How can we reduce the impact of higher interest rates?
What are some strategies that people can implement now to be proactive?