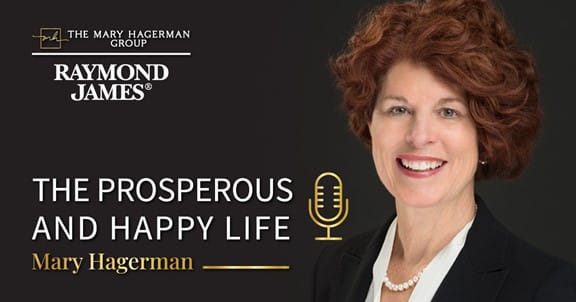 Money doesn't guarantee happiness, but it sure can help. In this podcast, I bring you expert advice on how to achieve not only wealth …. But happiness too!
I shares tips and experiences from my quest to help my clients be prosperous and happy. Over more than 30 years I have worked with thousands of clients and countless experts, all looking to live a rich and fulfilling life. In my podcast interviews, I share my stories and wisdom, along with advice from the many experts I have encountered along the way.
Subscribe to The Prosperous and Happy Life podcast on Spotify.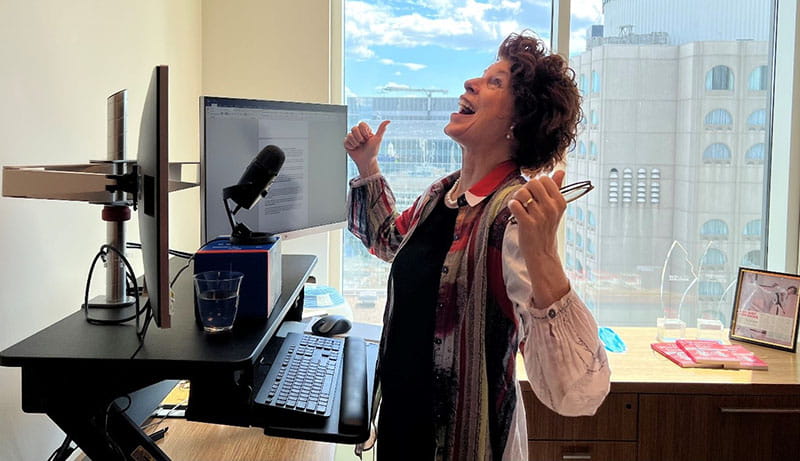 ---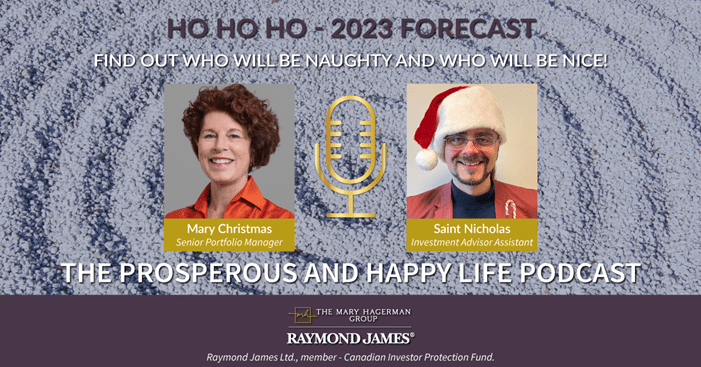 Episode 6: Ho Ho Ho – 2023 Forecast – Find out who will be naughty and who will be nice!
This podcast allows me to speak to experts in a variety of fields, but today's guest is an internationally recognized, might I say "iconic" figure, the one and only Saint Nicholas. He has just finished his 2022 world tour and reached out to me to discuss the state of the world.
Following a very troubling world tour, Santa wants to know what 2023 has in store.
Mary Christmas shares her views on:
Inflation [02:23]
Interest rates [03:48]
Recession fears [05:20]
The war in Ukraine [06:10]
ESG Investing [07:08]
Investment styles [07:38]
The 60-40 portfolio [09:45]
---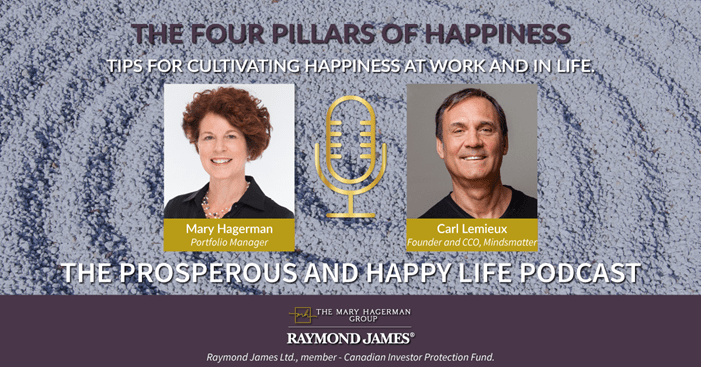 Episode 5: The Four Pillars of Happiness - Tips for cultivating happiness at work and in life.
I have been a firm believer in the benefits of mindfulness for over 40 years now and in my book, "The Black Belt Investor", I talk about how the 2008 – 2009 financial crisis was a turning point in my meditation practice….I finally became a regular meditator, to help deal with all my stress.
Since that time, I have cultivated many friendships in the consciousness space. A few years ago, I had the good fortune of meeting todays podcast guest Carl Lemieux, the founder of the leadership and well-being consultancy "Mindsmatter".
Carl Lemieux is an author, workplace psychologist, management consultant (EMBA), executive coach, psychotherapist (OPQ), and mindfulness teacher (MBSR).
Over his 35-year career, Carl has supported the design of corporate strategy and complex transformation initiatives, as well as coached and developed thousands of leaders and professionals. He is also co-author of a new book: "Vertical Growth".
Carl tells his story of how he quit the corporate life. [03:13]
Authenticity and intention as a means of finding happiness. [05:57]
How self-awareness and self-regulation is the starting point of Vertical Growth.[10:42]
Algorithms of the mind and mental programming. [13:44]
How to develop mindfulness in a realistic accessible way. [17:38]
The importance of the quality of our relationships to our overall well-being. [25:44]
Listeners can reach Carl Lemieux on his website: https://www.mindsmatter.com. Carl's book, "Vertical Growth", can be purchased on Amazon.
---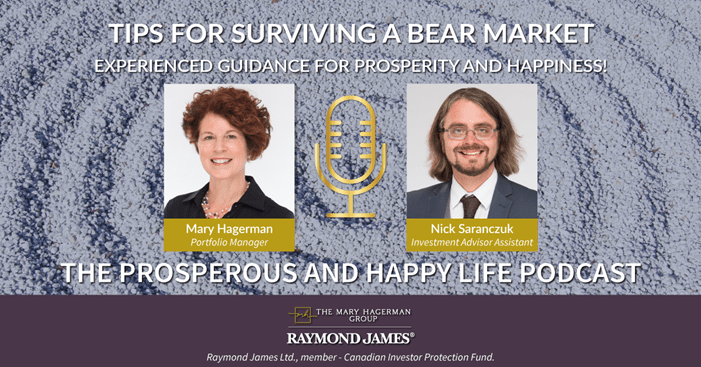 Episode 4: Tips for surviving a bear market - Experienced guidance for prosperity and happiness!
I am fortunate to have some really good people to help me do my job. If you listened to podcast number two entitled "Where are we now?" you heard from Nadeem Kassam, Chief Investment Officer with Raymond James Canada, he's part of my investment committee and then there was Sami Nathoo our financial planner, from our first podcast on rising interest rates and how that affects your financial plan.
In this episode, you will meet my podcast producer and top-notch assistant; Nicholas Saranczuk, as we chat about surviving a bear market and lessons from my book; The Black Belt Investor.
What were the worst bear markets for Mary over her more than 30 years managing money? [02:34]
Gilbert's story and the dot-com bubble. [03:45]
Lessons learned after the bubble burst. [06:09]
The Great Recession of 2008-2009 and how it compares to the pandemic and present bear market. [07:09]
Mary's tips for helping clients survive and thrive during bear markets. [10:22]
---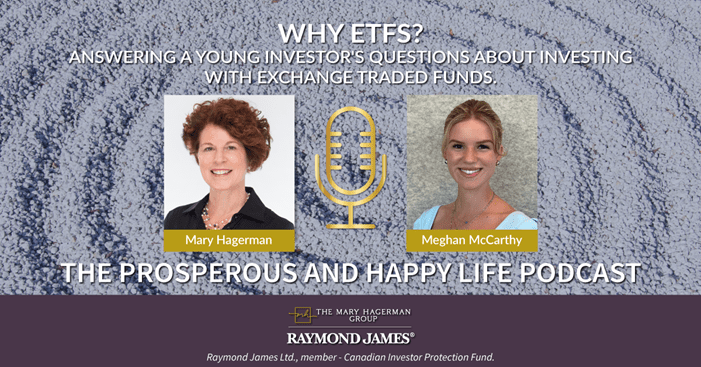 Episode 3: Why ETFs? Answering a Young Investor's Questions About Investing with Exchange Traded Funds.
As young people embark on a lifetime of saving and investing, they need to understand the role of ETFs in the investment landscape. I had the opportunity over the summer to employ Meghan McCarthy, a third-year finance student at Bishop's University, as an intern. She told me she was curious about ETFs and didn't really understand how they differed from mutual funds.
I thought it would be a great opportunity to interview Meghan on my podcast and have her ask me her questions about ETFs and investing.
What is the difference between an ETF and mutual funds? (2:25)
If mutual funds don't outperform, why not use ETFs instead? (8:00)
Is it possible for a mutual fund to compare itself to an index or does that make it an ETF? (9:55)
Why would you suggest for someone to use an advisor to build an ETF portfolio if it is already a managed fund?" (13:36)
---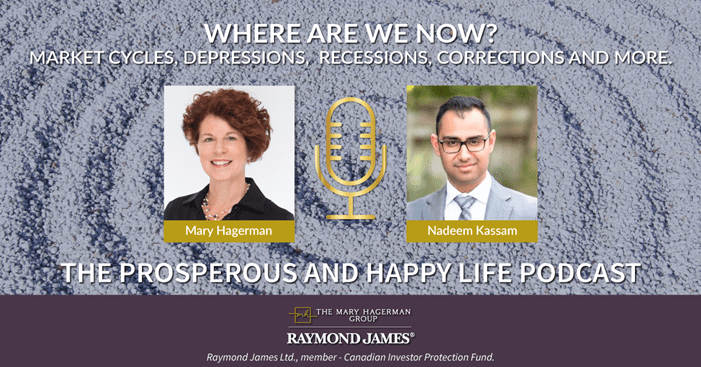 Episode 2: Where are we now? Market cycles, depressions, recessions, corrections and more.
Over the course of my over thirty years of managing money, I have seen numerous market cycles, upturns and downturns.
Each one has its own unique story.
In this episode of my podcast: The Prosperous and Happy Life, I deconstruct the story of the pandemic bull and bear market rollercoaster with my guest Nadeem Kassam; MBA, CFA.
This is definitely a unique story worth telling and we review the sequence of events in simple language, from the beginning of 2020 to August 2022.
In this episode, we dive into:
How do we define a bear market, correction and recession? (04:47)
The pandemic shock to markets (05:53)
How did interest rates decrease even lower during the pandemic? (07:35)
The shortest bear market in history (08:59)
Unprecedented market stimulus (10:20)
The shortest bull market in history (11:45)
What was your take on the markets before the war started in Ukraine? (14:50)
Inflation raises it's ugly head (18:06)
What everyone wants to know now: are we in a recession? (25:20)
What does prosperity and happiness mean to you? (31:00)
---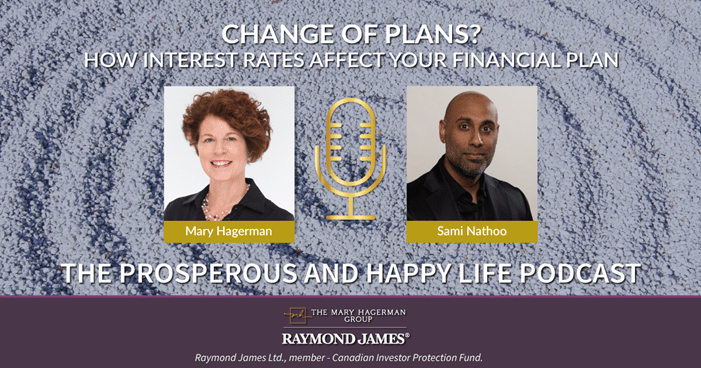 Episode 1: Change of Plans? How Interest Rates Affect Your Financial Plan.
I am very excited to announce the launch of our monthly podcast; The Prosperous and Happy Life, which goes live the last Friday of every month.
This first episode is entitled "Change of plans? How rising interest rates affect your financial planning." In this conversation with our financial planner Sami Nathoo, we discuss:
How does an increase in interest rates affect our financial plan?
How can we reduce the impact of higher interest rates?
What are some strategies that people can implement now to be proactive?