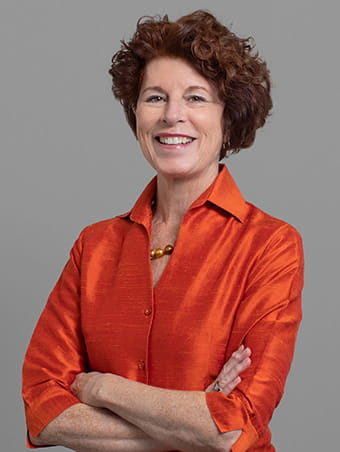 Mary
Hagerman,
M. Sc., FCSI®, CIM®, F. PI
Senior Portfolio Manager
Investment Advisor
As an award-winning Senior Portfolio Manager with more than 30 years of experience, Mary has guided thousands of clients and their families along the path to financial freedom. She understands the emotional toll money can take on people's lives; that is why she has dedicated her professional life to helping alleviate money anxiety. Mary brings her excellent balance of sincerity and empathy and her strategic and disciplined approach to client coaching.
Mary incorporates the skills and discipline that earned her a black belt in karate into her financial offerings. In short, she dares to be unique in her conversations about money, and this is one reason she has successfully risen through the ranks in an industry largely dominated by men.
She instills this approach – and discipline – across her team.
In 2019, Mary's exceptional contributions to her clients and the industry were recognized when she was named Wealth Professional's ETF Champion of the Year.
As a leading authority on overcoming financial anxiety, she has been featured in The Globe and Mail and The Financial Post, and on CTV and CBC Radio. Fluent in English and French, Mary is an expert columnist for Investment Executive and Finances et Investissement. She is regularly sought out for her investment acumen, particularly in the field of exchange traded funds (ETFs). In the aftermath of the 2008-2009 recession, Mary was one of the first female portfolio managers to build discretionary portfolios of ETFs for her clients.
At a glance:
Master's in Management, Université du Québec à Chicoutimi
More than 30 years of experience in the investment industry
Canadian Securities Course (manager and fellow)
Financial Planner designation, institute Québécois de planification financière
Host of "The Prosperous and Happy Life" Podcast
Author - The Black Belt Investor: A Martial Arts Guide to Wealthness; How to Kick Butt and Feel Rich!
The Fellow of CSI (FCSI®) is the pinnacle financial services credential and the highest honour in Canadian financial services. It is reserved for an exclusive group of financial professionals who demonstrate unparalleled leadership, integrity, commitment and dedication to their clients and industry.
The Chartered Investment Manager (CIM®) Designation builds the skills and experience we need to serve a more sophisticated financial client or institution. Financial professionals who hold the CIM designation are eligible for registration as a Portfolio Manager in Canada. They have expertise in providing money management services to high-net-worth and institutional clients, and they understand the application of portfolio management in the context of Canadian markets and regulatory requirements
What do these designations mean for you? They mean that when you work with an investment consultant who has taken the time to complete these designations, you're working with someone who is well-versed in modern concepts of investment advice, is educated enough to understand how your individual investments are being managed and how they work together – no matter how complex it may be. These skills, along with a commitment to advanced education, enable them to provide you with the kind of service that you not only want, but deserve.
Raymond James is not affiliated with the above organizations and/or charitable causes.